Welcome to the website of the Doctoral School in Health Sciences of the University of Granada. The main objective of this Doctoral School is to promote and boost doctoral studies and programmes linked to the fields of biomedicine, clinical medicine and health, biochemistry, pharmacy, nutrition and psychology.
The Doctoral School and its doctoral programmes run a wide range of training activities, including methodological courses, courses to promote cross-curricular competencies, student mobility programmes, research seminars and conferences for early stage researchers.
In line with the other Doctoral Schools of the UGR, the EDCS aims to offer high-quality doctoral studies and to train top qualified researchers in the field of Health Sciences. To this end, we have a large number of research groups and centres of excellence that carry out numerous research projects and produce high-level scientific output.
If you are interested in receiving doctoral training in the field of Health Sciences, explore this website and the doctoral programmes offered by our School and join us on the exciting journey of research in Health Sciences.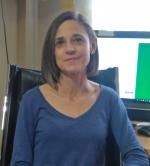 M. Carmen Ruiz Ruiz has been Director of the EDCS since July 2017. She was previously coordinator of the Doctoral Programme in Biomedicine since September 2013 and secretary of the Standing Committee of the EDCS Management Committee since September 2015.

She is Profesora Titular de Universidad (Senior Lecturer) of Immunology in the Department of Biochemistry and Molecular Biology III and Immunology, as well as a member of the Biopathology and Regenerative Medicine Institute (IBIMER) of the UGR and the Molecular Immunology research group (CTS-564). Scientific production in ORCID y ResearchID