Granada (Spain) Sep 11th-18th, 2019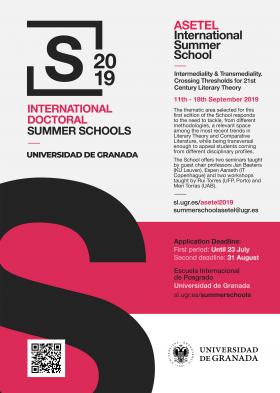 The thematic area selected for this first edition of the School responds to the need to tackle, from different methodologies, a relevant space among the most recent trends in Literary Theory and Comparative Literature, while being transversal enough to appeal students coming from different disciplinary profiles (Humanities and Social Sciences).

The School offers two seminars taught by guest chair professors Jean Baetens (KU Leuven), Espen Aarseth (IT Copenhague) and two workshops taught by Rui Torres (UFP, Porto) and Meri Torras (UAB).
Domingo Sánchez-Mesa Martínez.
Mª Ángeles Grande (UGR), Mª José Sánchez Montes (UGR), Anxo Abuín (USC), Ana Casas (UAH), José M. Marrero (ULPGC), Natalia Álvarez (ULE), José Manuel Ruiz (UGR), Mario de la Torre (UGR), Sarai Adarve (UGR).
- PhD Programme "Lenguas, Textos y Contextos" (UGR).
- PhD Programme "Ciencias Sociales" (UGR).
- Research Project I+D+i: Nar-Trans 2. Transmedialización y crowdsourcing en las narrativas de ficción y no ficción audiovisuales, periodísticas, dramáticas y literarias (CSO2017-85965-P).